Boy proposes to Girl.
Girl says yes.
Boy goes to war.
Girl plans a wedding.
Girl asks for help.
Girl gets brooches.
I think that one of my very favorite components of my wedding is my brooch bouquet. It is sooooo fun seeing the pins that everyone has been picking out. And I love that there are people contributing from all times in my life! This has turned out to be such a great project!
I received a small package in the mail the other day and I got SO EXCITED because I instantly knew it was brooches! I opened it up, and sure enough! Sent all the way from Brookings, Oregon. These pins were specially sent from my best friend (and
Maid of Honor
) and her sister and mom.
Davene and I met when we were in high school. I moved to Brookings in the middle of my freshman year. We didn't like each other initially but it didn't take long and we were fast friends. We became closer and closer, and when she and her mom and sister moved in right down the street, we became inseparable. Every night was spent at my house or her house, but always together. Her mom was like a second mom for me, and mine for her. Her sister became my sister... and also my friend.
We have maintained a close friendship through years, miles and the craziness of life. I am so thankful to have Davene, Tiffani and Kim in my life. And I am thankful they were so thoughtful in sending me these brooches!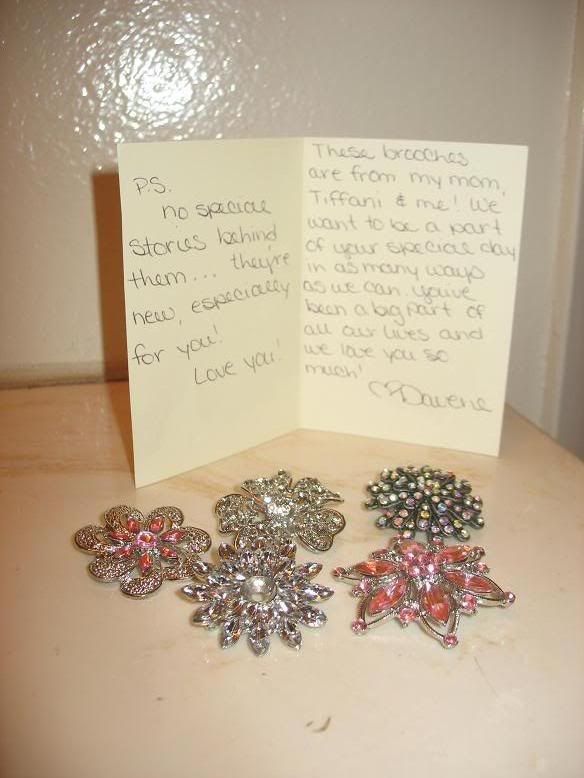 Love her sweet note!



These are going to look awesome in my bouquet!!!