Boy proposes to Girl.
Girl says Yes.
Boy gets orders.
Girl wants pictures.
As I was writing yesterday's post, I went back to get a link to our engagement photos and realized that I never posted the second half here on the blog! If you didn't see the first half, you can
check it out here
. I spent a lot of time and energy while J was first gone planning this engagement session with the help of our amazing photographer, Jordana of Hazelnut Photography, and our wedding planners Ashlyn and Heather of Carter and Cook Event Co. I knew that I wanted our photos to be personal and special to us. So together, we pulled off a pretty cool little shoot. The reason I couldn't share it on here earlier is because it was picked up and featured on Green Wedding Shoes. There was so much thought and detail put into this shoot and I am thrilled to share it all with you now :)
Our theme was love letters and stars. The thinking behind it was a combination of several things... The stars symbolize the star in the Cuban flag (J is cuban) as well as the star that represents the Army. To me it also represents that old childhood tradition of wishing on a star. The love letters represent the long distance relationship between J and I. Obviously we have spent a lot of time apart and the letters have so much symbolism to the two of us. In addition to that, we added a little bit of a 1940s "Notebook" look. "The Notebook" is my favorite movie. I adore it. I love the love story that is so passionate between the two characters. I have told J over and over again that he is my Noah. And I feel blessed to have a relationship that is that passionate and genuine. I think it is truly rare.
Tying in with our vintage-y theme... this coke bottle holder has been my mom's for years! The coke bottles I got at Costco :) That compact mirror I bought at an antique show last summer.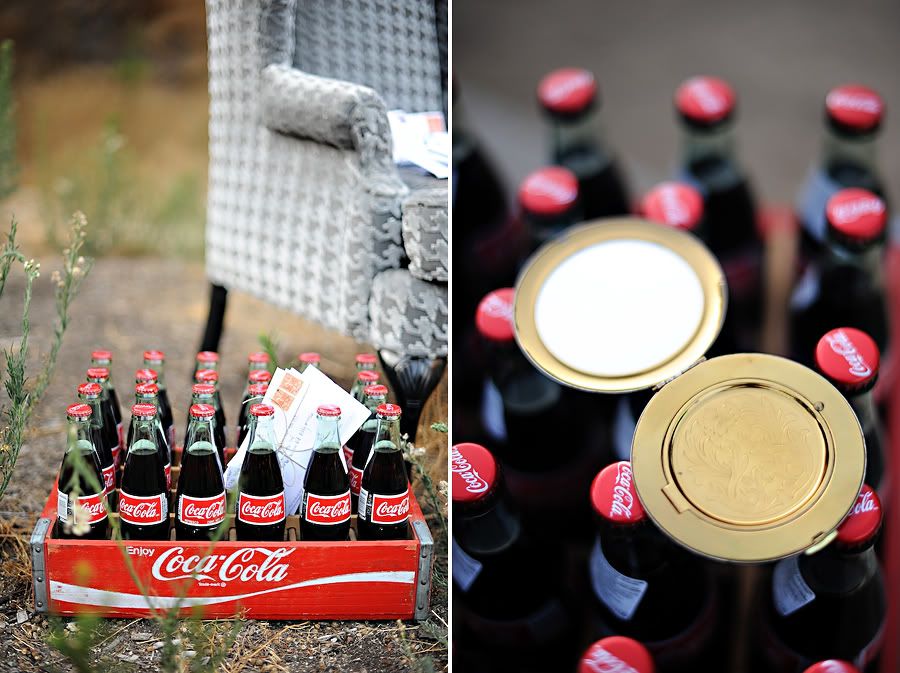 I loved these books and HAD to have them when I saw them at the antique show last summer. Being a photographer, I loved the 1940s book written about how to make good pictures. The book below is a book of poem's that is actually refered to in the book, "The Notebook".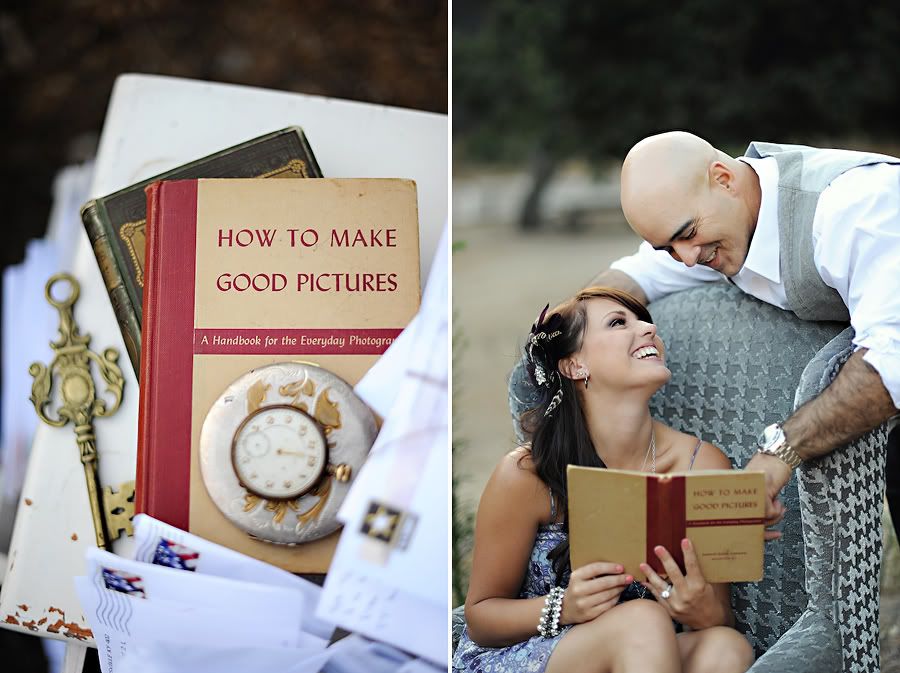 Ohhhh the letters! Some of these are real, and some of them are stuffed and made to look real :) You may also notice my cameras. I collect old cameras and they were a perfect addition to the shoot! The little white thing is my mom's. She's had it since I was a kid. The pocket watch just seemed too perfect. I got it at the antique show as well. Funny thing is that it's broken... but I love it!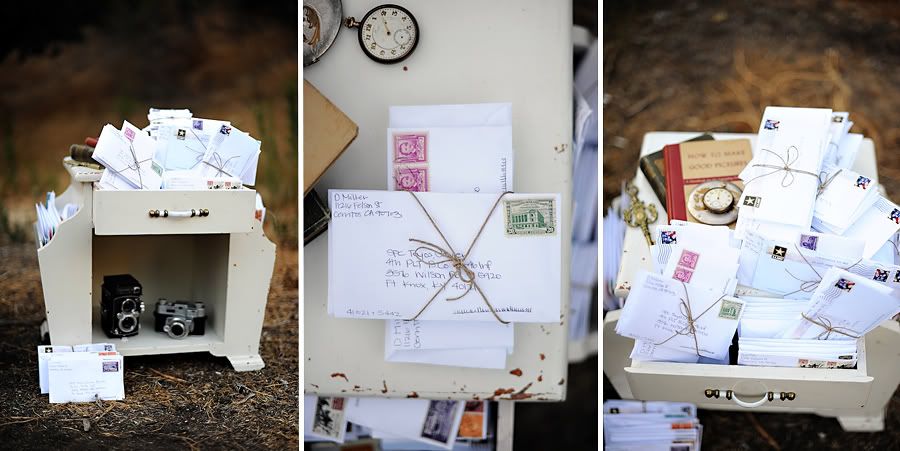 J's vest. This is a hilarious story. My mom blogged about it. She is better with words than I am. But in a nutshell, we went looking for something for J to wear to the photoshoot and ended up almost getting security called on us in Forever 21. But we eventually made it out alive... and with this vest :)



Right before we left, I asked J's nephew if I could borrow a few of his Army men. I promised to make them famous... I ended up LOVING this shot!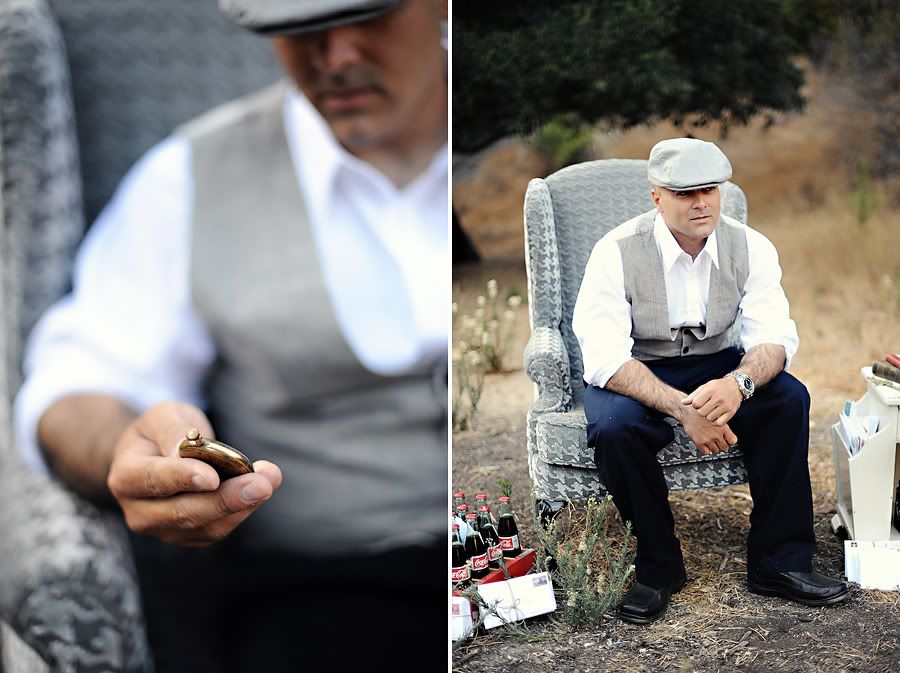 Jordana brought this chair along and it was perfect! I was so glad that she did!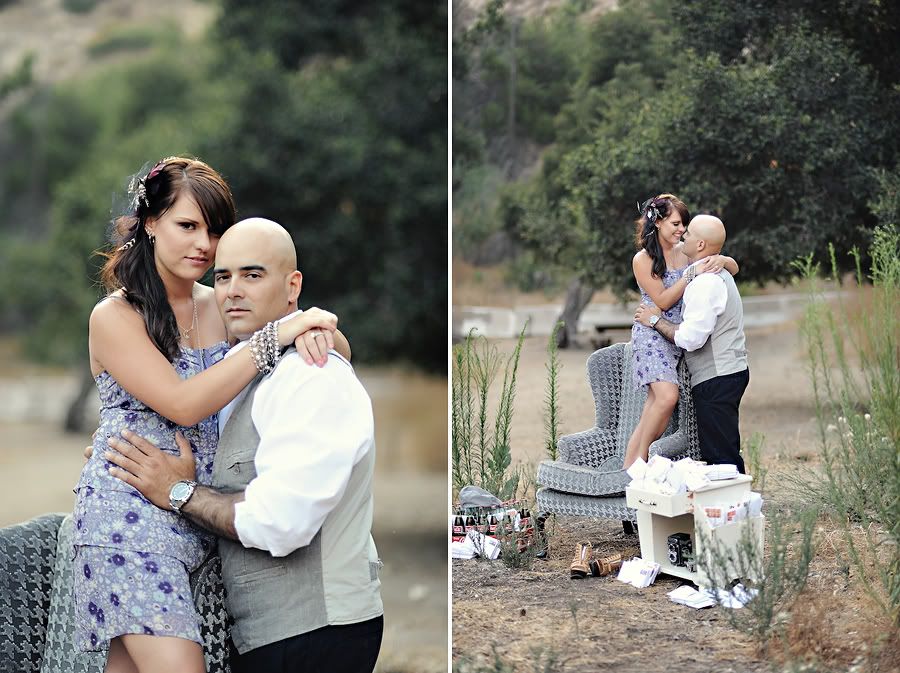 One of my absolute favorites.



Lauren of Lo Boheme made this amazing hair piece for me. I love her and her stuff. This was perfect! There will definitely be a few of these at my wedding *hint hint*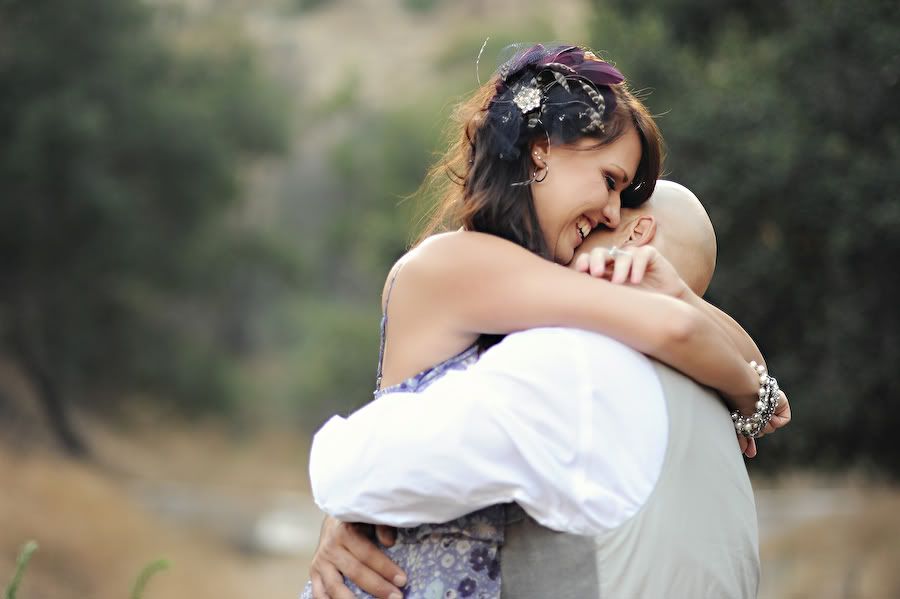 These stars were a labor of love. It took quite a while to put them all together, but I love how they came out!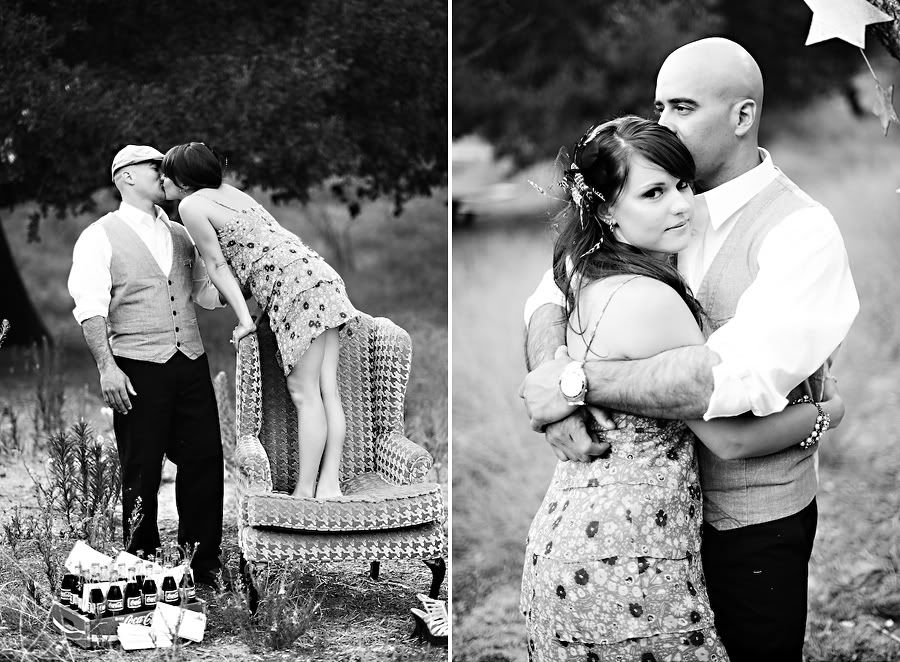 These cake lollipops are our favorite. We eat them every chance possible! They are from Sweet and Saucy Shop. They will also be making an appearance at our wedding :)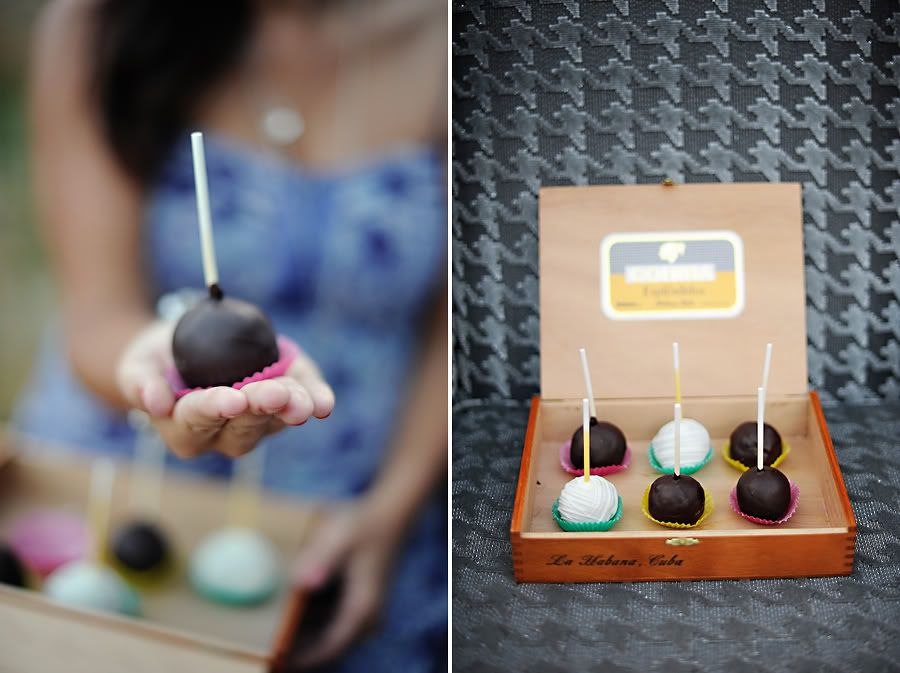 J's Army boots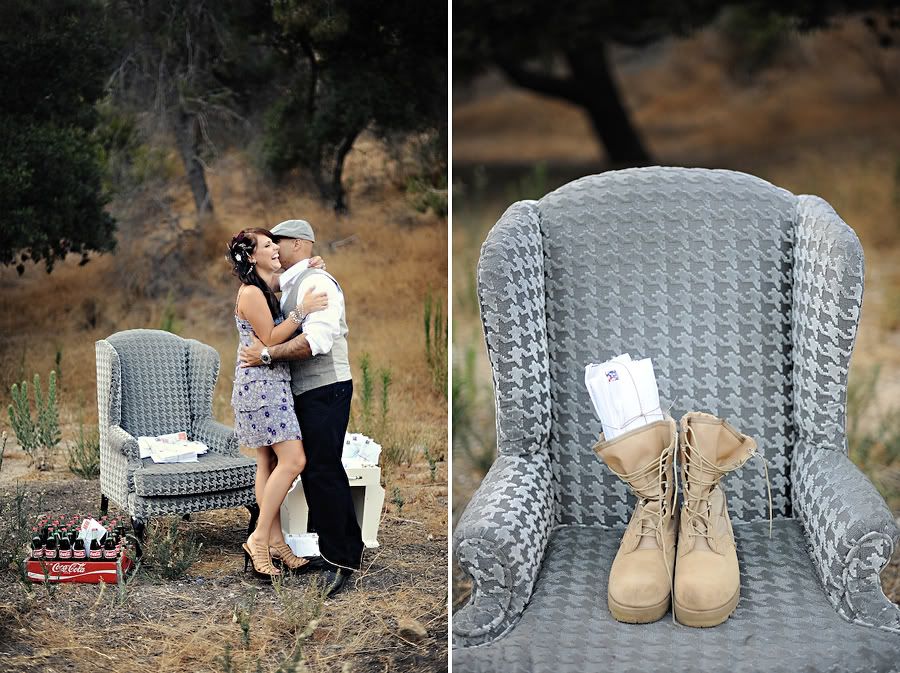 It makes a big difference when you have an awesome team assembled. I couldn't have pulled off this shoot if it wasn't for the incredible people that pulled together to make it possible!