Boy proposes.
Girl says yes.
Boy gets deployed.
Girl plans a wedding.
Girl gets overwhelmed.
Girl has idea.
Girl asks for help.
In planning our wedding, I have gone around and about and up and down about different ideas (as you can probably see by all of my recent posts and all of the crazy ideas I have). But one thing that I knew I wanted from the beginning was something unique, different, fun, and true to who we are.
I am not a big fan of flowers. I mean, I like flowers in general, but as far as weddings go... I know it's tradition, but it's what everyone does. And it just isn't really me. So I made the decision early on that I did not want any live flowers at our wedding. And so the search for an alternative began.
I knew I was onto something when I saw this picture:
I fell in love.
I knew that I wanted a bouquet like that. My mom and my grandma have been collecting brooches since I can remember. They hunt for them and pick out special ones. Each one has a story and meaning. So this picture of this bouquet brought back so many memories of my childhood.
It was perfect.
And then began the brainstorming. Did I want all flowers? Did I want all clear rhinestones? Did I want to keep it in the color scheme of my wedding? Would I borrow them all from my mom and grandma? Or would I purchase my own?
So together, mom and I came up with a plan that I LOVE.
I want my bouquet to have meaning. I want it to be special. And I want to be able to keep it long after the wedding is over. Maybe one day someone else that I love will want to carry it. If not, it will make a beautiful decoration for our house someday.
So borrowing pins was out.
The next idea was to search flea markets and garage sales for my own. Which I'm sure would be a blast. But then the brilliance came.
Why not ask everyone to send one? My family and friends can send me a pin that they already have, or pick one out especially for this. Then on my wedding day, my bouquet will symbolize those that are there with me, and those that are celebrating in spirit.
So here is my plea to all of you, my family and friends:
Javi and I have decided to get married when he comes home for his R&R this spring. The circumstances are going to make it impossible for us to invite everyone we want to, but we thought some of you might like to be a part of the ceremony in a fun and different way.
Instead of a floral bouquet, I would like to carry a brooch bouquet. But I don't have any brooches! I thought about looking for them at flea markets and sales, but then my mom suggested that maybe I could borrow some. while this is a good idea, I sort of want to be able to keep my bouquet--I would hate to have to take it apart to return all the brooches
So here is my idea. If any of you want to send me a brooch that I can keep, I will use as many of them as i can in my bridal bouquet. they can be old or new, jeweled or enameled, silver or gold. flower designs would be easiest to use, but I will try to use whatever I get. This will be a beautiful reminder of some of the people who care about me. And I say "some" because I know that maybe everyone who is reading this blog might not be able to send a pin. And that's ok.
I am excited to see how this turns out. It will be fun to see what choices you make! And I know that every time I look at the bouquet, I will be reminded of each of you that choose to participate.
Here are a few more pictures of different brooch bouquets: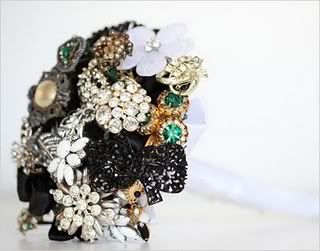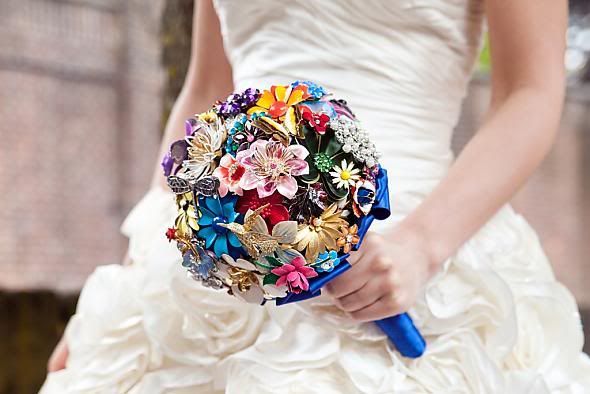 If you don't have my address and you want to send a pin, please leave me a comment with your email address and I'll send you the address :) If your pin has a story with it, please make sure to tell me so I can keep track! Or if you chose it for a specific reason, mention that as well. As the pins come in, I will be blogging about them and keeping a record of all of the people who are participating on my special day!
Can't wait to update you on the progress!